to the Jefferson County Missouri Heritage & Historical Society ... online!

The emphasis of our organization is to collect, preserve and print historical materials, to record cemeteries, and to make the public aware of the rich heritage in Jefferson County, Missouri.

All transcriptions are copyrighted by the Jefferson County Historical Society and are available for your personal use only.
They are not to be sold or reproduced for any commercial purpose, or used on any other web site.

President: Bernard Laiben

Vice President: Bill Haggard

Secretary: Kay Clerc-Fakhar

Treasurer: Lisa K. Gendron

Jefferson County Heritage & Historical Society

meets every other month on the 2nd Sunday.

October 9, 2022

December 11, 2022

Membership is $10 a year and everyone is welcome to attend!

The Jefferson County Museum is temporarily closed while we move to our NEW location!
---
Please use this button if you would like to donate funds to help the Historical Society
If you have historical items with Jefferson County MO significance from schools, churches, scout groups, organizations, etc...
that you would like to display or donate to the museum, please contact Historical Society President
Bernard Laiben at blaiben@outlook.com
---
DESTROYED JEFFERSON COUNTY CEMETERY!
In 2015, Ameren UE, and their subcontractor, Asplundh,
damaged the historic Smith Speed graveyard in Hematite by driving their heavy equipment through it,
crushing and breaking most of the stones. Ameren testified in court that they didn't know the cemetery was there. However, In 1977, a separate lawsuit was
brought against Ameren for damage that they did to the cemetery when installing their power lines. Documents, surveys, deeds, and evidence from that
case prove without a doubt that they most certainly knew of its existence. The following aerial photo, taken by Peter Newton, clearly shows the broken
stones, and the machines tire tracks left in the cemetery.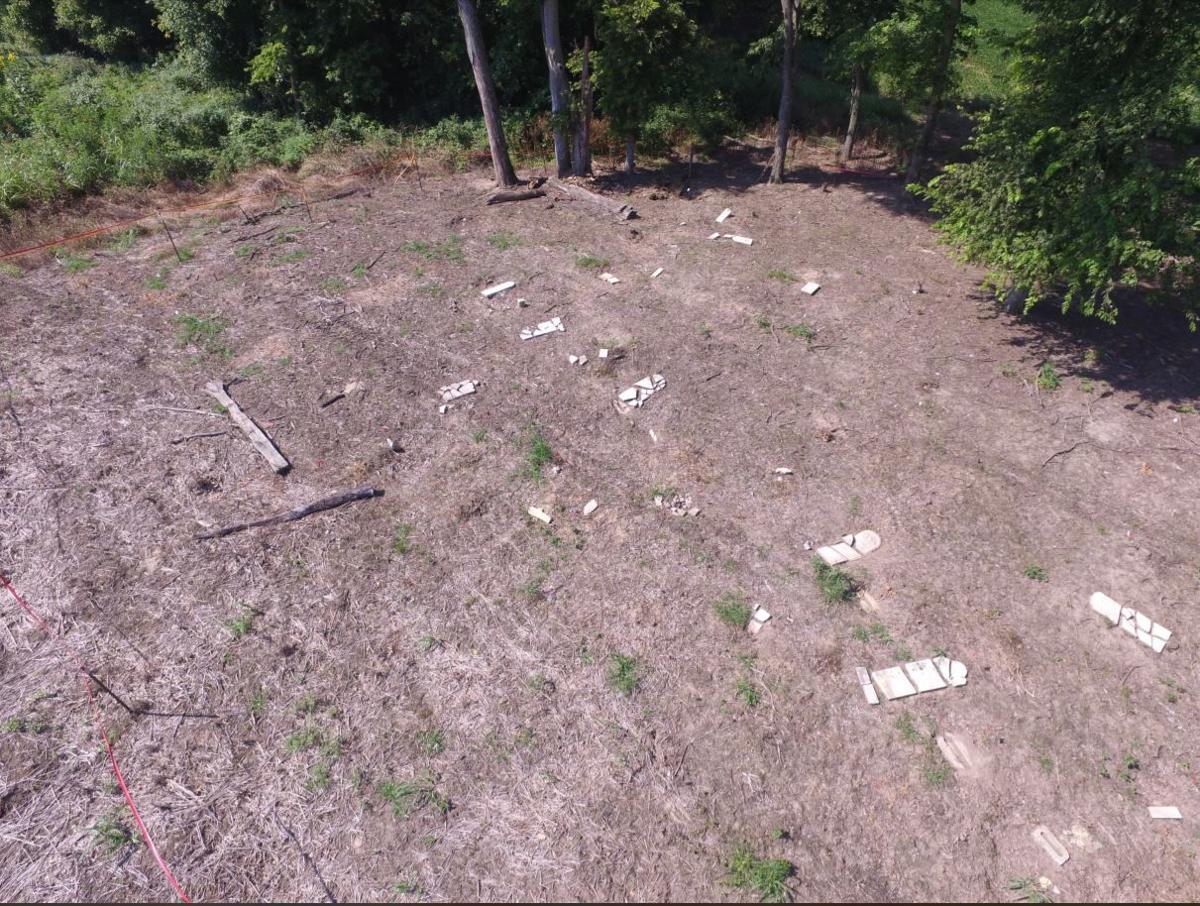 More of the story can be read in this article from the May 14, 2020 issue of the St. Louis Post Dispatch. Or here for a .pdf version.
---
JCHHS is proud to present the new publication
Kennett Castle or Selma Hall and the Families That Lived There: by Lisa K. Gendron
The book tells the story of the pre-civil war castle, built by Ferdinand Kennett below Crystal City, on the banks of the Mississippi river in Jefferson County.
The author presents extensive research through documents, stories and full color photos to illustrate the history of the castle and the lives of those that have
lived and worked on the estate from the beginning, to the Union Pacific railroad. The book can be purchased on our publications page, or through Amazon.
---
The Grand Opening of our county wide museum was fantastic!
Photos from the Grand Opening!
Jefferson County celebrated its 200th year! We had some great events!
June 16, 2018 - Wine & Beer Showcase - The Lalumondiere Mill & Rivergardens - Byrnesville
July 21 - Parade - Hillsboro Business 21 to Fairgrounds
Jefferson County Fair/Bicentennial Art Contest - Hillsboro
August 4 - Living History Day - Northwest Library - High Ridge
August 25 - Bicentennial Car Cruise - De Soto
September 14 - Frisco Hill Event
September 15 - Living History Day - Kimmswick
September 22 - Bicentennial Car & Motorcycle Show - De Soto
October 6 - Bicentennial Expo - Hillsboro Civic Center
September 28 - October 28 (Weekends) - Pierce Century Farm Bicentennial Corn Maze (see the video https://vimeo.com/288912941)
---
Our 200th Anniversary commemorative Bicentennial Coin is now sold out.
2018 COUNTY BICENTENNIAL CALENDAR!
This beautiful calendar features historic scenic photos of the county by local photographers.
---
History of Jefferson County Missouri By Lisa K. Gendron
Added:
April 2022 - Masonic Fraternity, Festus-Crystal City
February 2022 - Hematite Christian Church Pastors and Evangelists
January 2022 - Ozark Highlander Store
November 2021 - Donnell Mercantile Ledger 1869
March 2021 - Gabriel Boyce Family & Cemetery (with photos)
January 2021 - Jefferson County Teacher 1926-27
January 2021 - 1850 Slave Owners
January 2021 - 1860 Slave Owners
October 2020 - Charlotte's Pearls Newspaper Transcriptions
April 2019 - History of the Hematite Nuclear Facility
August 2018 - History of Jefferson County Missouri Emergency Services
April 2018 - Archaeology Sites added (more added Sept. 2018)
December 2017 - 1963 Fox C-6 Teachers Association Members added to Schools
December 2016 - Former Circuit Court Judges 1819-1941 added to Court Records
September 2016 - 1859 Murder Case - Smith/Williams added to Court Records
September 2016 - 1819 Territory of MO Slavery Issue added to History Articles
April 2016 - I Remember When memories of long time members Betty & Blaine Olson added with photos!
June 2015 - Alphabetized Last Name Index to all burials in our database added to Cemetery Transcriptions & "I Remember When" section added for local memoirs
May 2015 - Missouri State Penitentiary records, tried in Jefferson County, MO added to the Court Records.
April 2015 - Biographies of prominent business men from 1820-1921 added
January 2015 - Caveland Skating Rink history article added & State Hospital (Fulton) 1850-1910 added to Court Records
February 2014 - Jefferson County Missouri Marriages from 1839-1850 have been added to the site.
August 2013 - Added Presbyterian Cemetery at Gamel and the 1900 County Ward Book was added to History Articles.
February 2013 - Baker (aka Hillcrest) School article and photos have been added to the "Schools" page.
November 2012 - Jefferson Co. Marriages through 1838 have been added to the site.
June 2011 - The Heritage News Our society newsletters, containing interesting articles about Jefferson County, MO have been added to the site. Find the index in the menu on the left under "History Articles."
March 2011 - Passports have been added to the site! These records are from the early 1900's and include photographs of the applicants! Kay Clerc Fakhar has transcribed an index for this outstanding collection. Find them in the
menu on the left under "Passports."
March 2011 - 1826 Petition to move the county seat from Herculaneum to Hillsboro, complete with signatures! Find it under the "Courts" section.
Sept 2010 - John Linhorst has created a wonderful tool by taking the 1876 & 1898 historical atlases of Jefferson County and creating a series of overlays for use within the Google Earth software. It gives the user a good look at
how things have changed (and how some things have not changed!) in Jefferson County. Check them out under "Land Records, Maps & Place Names" on the menu at left.
July 2010 - The Old Settlers List 1864 - 1950 has been added to the site. Transcribed by Betty Olson, find it under "History Articles." Also Carole Goggin has supplied us with a Jefferson County MO Place Names list. Find it under "Land Records."
Feb 2010 - More cities have been added to the Historical Postcards and photographs on our site. More towns will be added soon!
Dec 2009 - Funeral Home Records have now been added to our site! These records are from the Mahn, Mothershead, Fink, and Dietrich Funeral Homes, and now include the older Coxwell and Stovesand records!
See the Jefferson County Leader newspaper article featuring several of our members in their quest to find and replace the gravestone for former county collector John Williams!
---
The following members can be contacted for information concerning Jefferson Co. Missouri history.

Bernard Laiben

blaiben@outlook.com (Museum & Society Business)

Lisa K. Gendron lgendron@swbell.net (Website & General)
Kay Clerc Fakhar KayClerc@yahoo.com (Newspapers & Genealogy lookups)
---